About this site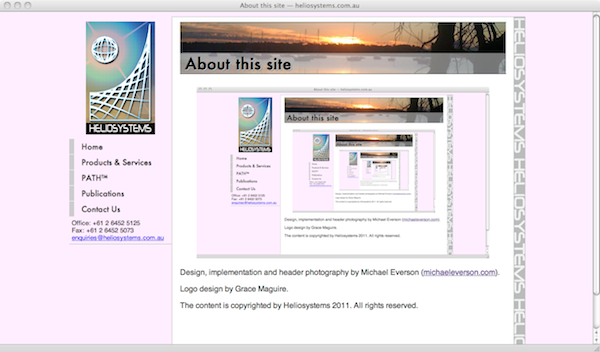 Disclaimer
Every effort has been made to ensure that the information on this site is correct and up to date. Heliosystems (Pty) Ltd, however, does not provide any guarantee as to the completeness or accuracy of the information; and does not accept any liability for damages resulting from the access or use of this site or its contents.
All information on this site is protected by copyright and other intellectual property rights. No images, text or other content from this site may be distributed or reproduced without prior written approval from Heliosystems (Pty) Ltd.
Credits
Design, implementation, header photography and logo background by Michael Everson (michaeleverson.com).
More header photography and graphics work by Alex Lehmann.
Logo design by Grace Maguire.
© Heliosystems 2011. Home. About this site.